How We Teach
At the heart of each topic is a quality text, which immerses a child into a new topic and supports the acquisition of topic related vocabulary. Subjects have been carefully mapped and planned to ensure coverage and progression is made in all curriculum areas.
This creative approach enables topic-based learning, fostering each child's curiosity and interest throughout each area and also enabling the achievement of depth in knowledge and skills. Opportunities to learn about significant figures and current local and global issues are planned within each topic to ensure all children's backgrounds are represented and the children are inspired.
The curriculum provides children with memorable experiences, in addition to diverse and rich opportunities from which they can learn and develop a range of transferable skills.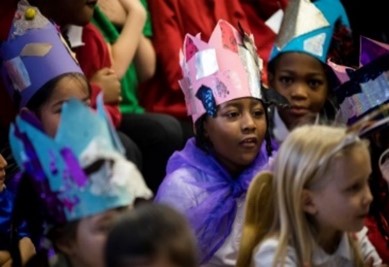 The children's own community, their heritage and traditions are used and referred to throughout topics for engagement and context. The Arts have a high profile within the school; each topic starts with a hook, where the children are immersed in the topic through Art and DT.
All units start with a learning question, and a detailed Knowledge Organiser supports the planning and delivery of each topic. You can see an example of a Knowledge Organiser at the bottom of this page. Each Knowledge Organiser identifies key vocabulary, outdoor learning opportunities and significant and relevant people to be studied.
All units end with a celebration, whereby the children share their learning with their parents and/or local community; this could be a sharing of work, food or raising funds for local charities.
Beyond the classroom
We have a commitment to ensuring that all learners have access to good quality educational experiences beyond the classroom walls, for instance half-termly trips, outdoor learning activities, regular library visits and in school workshops.
Always learning
Subject leaders play an important part in the success of the curriculum by leading a regular programme of monitoring, evaluation and review and the celebration of good practice contributes to the ongoing commitment to evolve and improve further.
All subject leaders are given training and the opportunity to keep developing their own subject knowledge, skills and understanding, so they can support curriculum development and their colleagues throughout the school.