Humanities
We take a creative and cross curricular approach to our Humanities curriculum so that children become fully immersed in each of these subjects and come away with a secure foundation of knowledge. We believe creativity is crucial in enabling children to achieve high standards and to acquire key skills.
In both History and Geography, enquiry is key and children are given opportunities to ask questions and debate viewpoints in order to give them a more deepened understanding of topics. Within our topics, we teach children about significant figures and 'hidden heroes', with an emphasis on celebrating diversity and ensuring our Humanities curriculum represents the diverse world we live in. Through our creative curriculum, children learn to think for themselves, become adaptable and learn key skills for life.
History
Woven into our History curriculum are the inspirational stories of individuals, alongside stories of destruction, violence, war and romance amongst others. Children at JKPS are taught to judge and analyse the actions of people and societies in history and to learn from the mistakes of the past. They explore how these decisions and events still influence us today. Furthermore, by celebrating significant people in history, children are encouraged to hold onto the stories of people whose actions inspire them.
Children are taught to look at the reliability and prejudice of evidence so that they are equipped to make decisions about what they encounter and to imagine a better future for themselves.
Best of all, history in our school is challenging yet exciting, thought provoking and intriguing.
JKPS Humanities Curriculum Overview
National Curriculum for History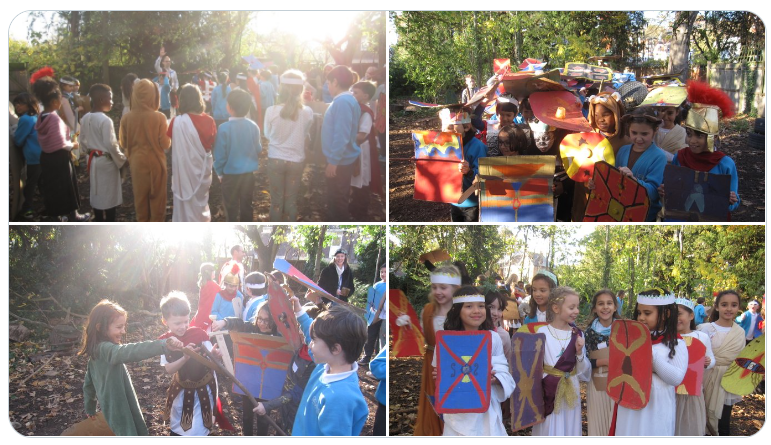 Geography
Geography is a valued part of the curriculum at JKPS, as it provides a means of exploring, understanding and appreciating the world in which we live. We aim to inspire children with a curiosity and fascination about the world and its people, which will remain with them for the rest of their lives.
We support the development of Geographical skills by starting with the children's immediate surroundings before widening our studies to capture the wider world around them. We make use of our varied outdoor spaces to support the children in their geographical explorations.
Through our teaching, we aim to expand pupil's geographical knowledge of people and places and to understand the physical, social and economic forces which shape those places and the lifestyles of the people who live there. Children are supported to make comparisons between other places and people and their own lives and locality and investigate and ask questions about the world around them.
At JKPS, we value providing children with 'hands on' learning experiences in Geography that encourage interest and enhance progress in the subject. The children learn key mapping skills; first learning to build and draw maps of imaginary or familiar places, before moving on to use maps to locate cities, countries, mountain ranges, rivers, seas and oceans. They use atlases, photos and the internet to explore the environment and economics of those countries and locations which they study.
JKPS Humanities Curriculum Overview